How to Advertise on Facebook in 2020: The Definitive Facebook Ads Guide
Facebook advertising is an important way to connect with your audience on the world's largest social network.
The ever-changing Facebook algorithm can make it a challenge to connect organically with fans. But Facebook's micro-targeting features allow you to reach your exact target audience. That means Facebook ads can get your message in front of the people who are most likely to want your products or services.
That's great for your budget, conversion rates, and return on investment. You only pay to reach the most valuable potential customers.
It's important to understand the different Facebook ad types and targeting options before you dive in if you want to get the best results. In this guide, we'll walk you through everything you need to know, from planning your first ad to developing advanced campaign strategies.
Bonus: Download a free guide that teaches you how to turn Facebook traffic into sales in four simple steps using Hootsuite.
Types of Facebook ads
Image ads
These simple ads are a great way to get started with Facebook advertising. You can create one with just a few clicks by boosting an existing post with an image from your Facebook Page.
Image ads may be simple, but that doesn't mean they have to be boring. For example, you might think socks are a pretty ho-hum product, but Happy Socks puts them in surprising contexts to create fun Facebook photo ads.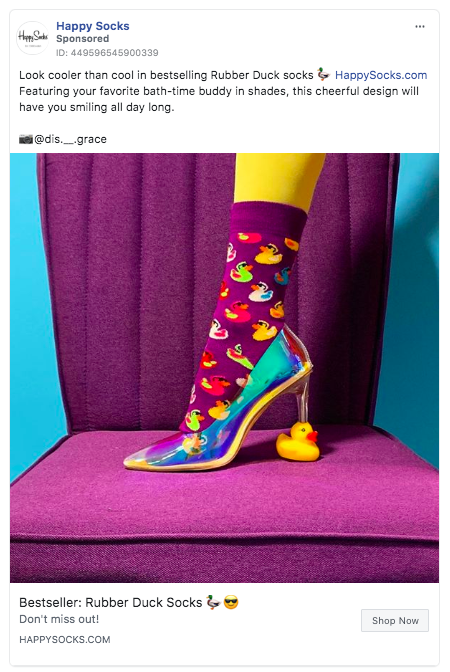 Video ads
Video ads can run in News Feed and Stories, or they can appear as in-stream ads in longer Facebook videos. Video ads can show your team or your product in action, like this quick demo video ad from We Are Knitters.
Your video ads don't need to use filmed video footage. You can also create GIF-like graphics or other animations to capture attention or explain your offer, like in this ad from the New York Times.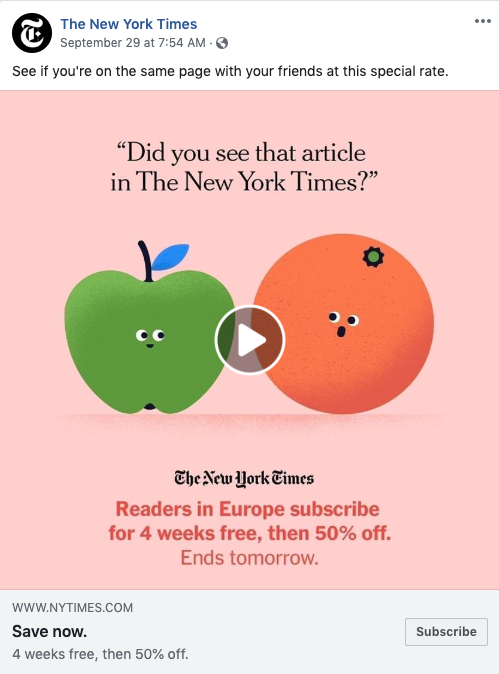 Also notice the targeting on this ad: It specifically mentions an offer for Europe (where I live). In my feed, I can also see which of my friends already like the NYT Facebook Page. This makes the copy extra-compelling.

Video poll ads
This mobile-only Facebook ad format incorporates an interactive component with video polls. It's a brand-new type of Facebook paid advertising, but Facebook's early data shows that these ads can increase brand awareness more effectively than regular video ads.
Carousel ads
A carousel ad uses up to 10 images or videos to showcase your product or service. You can use this format to highlight different benefits of one product, a number of different products, or even use all the photos together to create one large panorama image, like this:
Slideshow ads
Slideshow ads offer an easy way to create short video ads from a collection of still photos, text, or existing video clips. If you don't have your own images, you can choose stock photos directly from Ads Manager.
Slideshow ads have eye-catching motion, just like videos, but use five times less bandwidth, so they load well even for people on slow internet connections. They're an easy, low-impact way to draw attention.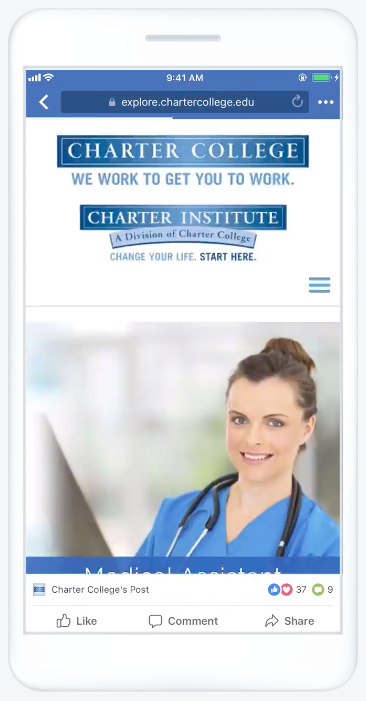 Collection ads
These Facebook paid ads, which are offered only for mobile devices, allow you to showcase five products that customers can click to buy.
Collection ads pair with Instant Experiences (more on those below) to allow people to buy your products without ever leaving Facebook. This makes online shopping easy when people are on-the-go and may not have a great internet connection.
Instant Experience ads
Instant Experience ads used to be called Canvas. They're a full-screen ad format that loads 15 times faster than a mobile website outside of Facebook, like this example from American Express.
You can also link to additional Instant Experiences so people have access to even more instant mobile content.
Lead ads
Lead ads are only available for mobile devices because they're specifically designed to make it easy for people to give you their contact information without a lot of typing. They're great for collecting newsletter subscriptions, signing someone up for a trial of your product, or otherwise allowing people to ask for more information from you.
Tokio Marine, an insurance company, used lead ads to generate 11,000 leads in just 17 days. In addition to an easy-to-complete lead form, the ads used a Messenger bot to further qualify potential new clients. The campaign reduced the cost of lead collection by 60 percent.
Because these ads are such a great way to feed your sales funnel, we've got a whole guide to using Facebook lead ads that breaks down all the details you need to know to make the most of this important type of Facebook ad campaign.
Dynamic ads
Dynamic ads allow you to promote targeted products to the customers most likely to be interested in them.
For instance, if someone has visited a product page or placed a product in their shopping cart on your website, but then abandoned the purchase, dynamic ads for that precise product will appear in their Facebook feed.
This reminds the potential customer to complete the purchase, and can be a very effective Facebook marketing strategy.
The French store Smallable used dynamic ads to retarget potential customers with carousel, collection, image, and Stories formats. Smallable showed Facebook users ads for products they had already expressed interest in, resulting in a 124 times return on ad spend.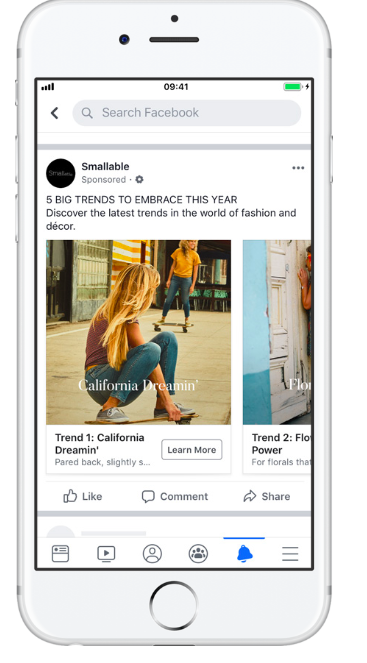 Messenger ads
Facebook Messenger ads give you access to the 1.3 billion people who use Messenger every month. When creating your ad, simply choose Messenger as the desired placement. You also need to select Facebook feed.
Here's what an ad looks like in the Messenger app:
You can also run "click-to-Messenger" ads in the Facebook feed. These ads feature a call-to-action button that opens a Messenger conversation with your Facebook Page, so people can have a one-on-one conversation with one of your salespeople or customer service reps.
Stories ads
Scientific American found that 72% of millenials won't rotate their phones to watch widescreen videos. Stories ads are a full-screen vertical video format that allow you to maximize screen real estate without expecting viewers to turn the screen.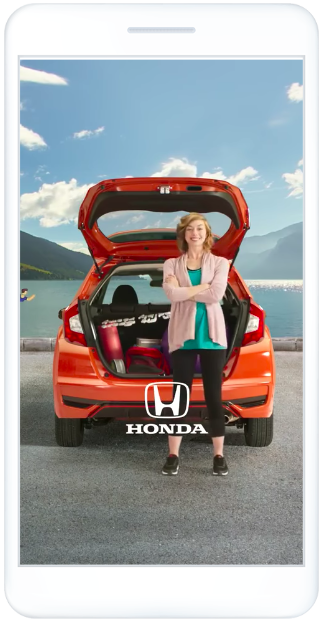 These ads have proven highly effective. A Facebook-commissioned Ipsos survey showed that more than half of people said they were making more online purchases because of Stories ads.
Stories augmented reality ads
Augmented reality ads use features like filters and animation to allow people to interact with your brand. This ad format is new to Facebook, but 63% of U.S. Internet users say they have already tried an AR brand experience. Facebook AR Stories ads go into open beta this fall.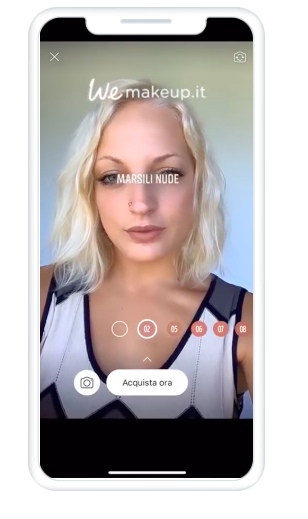 Playable ads
This is another new ad format that incorporates interactivity. You create a game experience that encourages people to interact with your creative content.
Vans used a playable ad to increase brand lift and favorability.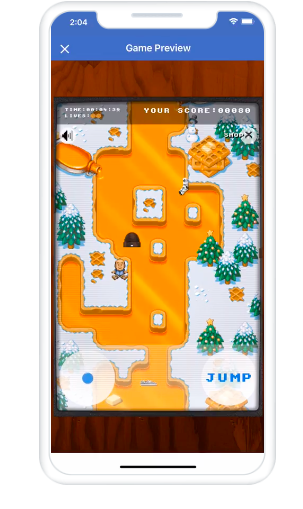 How to advertise on Facebook
If you already have a Facebook business page (and you should), you can head straight to the Facebook Ads Manager or Business Manager to create your Facebook ad campaign. If you don't yet have a business page, you'll need to create one first.
We'll follow the steps for Ads Manager in this post. If you'd prefer to use Business Manager, you can get the details in our post on how to use Facebook Business Manager.
Step 1. Choose your objective
Log into Facebook Ads Manager and select the Campaigns tab, then click Create to get started with a new Facebook ad campaign.
Facebook offers 11 marketing objectives based on what you want your ad to accomplish. Here's how they align with business goals:
Brand awareness: Introduce your brand to a new audience.
Reach: Expose your ad to as many people in your audience as possible.
Traffic: Drive traffic to a specific web page, app, or Facebook Messenger conversation.
Engagement: Reach a wide audience to increase the number of post engagements or Page Likes, increase attendance at your event, or encourage people to claim a special offer.
App installs: Get people to install your app.
Video views: Get more people to watch your videos.
Lead generation: Get new prospects into your sales funnel.
Messages: Encourage people to contact your business using Facebook Messenger.
Conversions: Get people to take a specific action on your website (like subscribe to your list or buy your product), with your app, or in Facebook Messenger.
Catalog sales: Connect your Facebook ads to your product catalog to show people ads for the products they are most likely to want to buy.
Store traffic: Drive nearby customers to bricks-and-mortar stores.
Choose a campaign objective based on your goals for this particular ad. Keep in mind that for conversion-oriented objectives (like sales) you can pay per action, but for exposure objectives (like traffic and views) you will pay for impressions.
For this example, we'll choose the Engagements objective. Some of the options you see in the next steps will vary slightly based on which objective you choose.
Step 2. Name your campaign
Scroll down to name your Facebook ad campaign and choose whether to set up an A/B split test. You will also choose whether to turn on budget optimization. This option can be useful if you're using multiple ad sets, but for now you can leave it turned off.
For the Engagements objective, you'll also choose whether to focus on post engagement, page likes, or event responses. For this example, we'll choose Page likes.
Step 3. Set up your ad account
If you've already set up an account, you'll see a button that says . Click that to move on to the next step.
But if you're new to Facebook advertising, you'll see a button that says Set Up Ad Account. Click that and you'll be prompted to enter some key details to create your ad account. Enter your country, preferred currency, and time zone, then click Continue.
Choose wisely, because if you want to change these options later, you'll have to create a separate ad account.
Step 4. Target your audience
At the top of this screen, you will name your Facebook ad campaign and choose which Page to promote.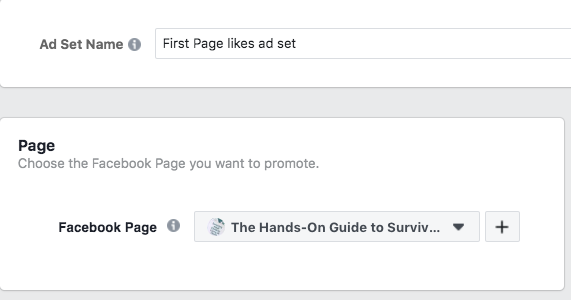 Scroll down to start building the target audience for your ads.
You'll see the first option is to add a custom audience of people who have already interacted with your business on or off Facebook. We've got a separate guide to walk you through Facebook custom audiences, so here we'll focus on the targeting options.
Start by selecting your target location, age, gender, and language. As you make your selections, keep an eye on the audience size indicator on the right of the screen, which gives you a sense of your potential ad reach.
You'll also see an estimated number of Page likes. These estimates will be more accurate if you have run campaigns before, since Facebook will have more data to work with. Always keep in mind that these are estimates, not guarantees.
Now it's time for the detailed targeting. Remember: Effective targeting is key to maximizing ROI—and there's no shortage of ways to target your audience using Facebook Ads Manager. You have two fields here in which to make your audience as specific as you choose:
Detailed targeting: Use this field to specifically include or exclude people based on demographics, interests, and behaviors. You can get really specific here. For instance, you could choose to target people who are interested in both meditation and yoga, but exclude people who are interested in hot yoga.
Connections: You can target or exclude people who have an existing connection to your Facebook Page, your app, or an event you managed. For example, if you want to reach a new audience, your would select "Exclude people who like your Page." If you want to promote an offer or new product to existing fans, select "People who like your Page" to reach people who already know your brand. You can also choose to target friends of people who have previously interacted with your brand.
Check out these eight essential Facebook targeting tips for more on this subject.
Step 5. Choose your Facebook ad placements
Scroll down to choose where your ads will appear. If you're new to Facebook advertising, the simplest choice is to use Automatic Placements. When you select this option, Facebook will automatically place your ads across Facebook, Instagram, Messenger, and the Audience Network when they are likely to get the best results.
Once you have more experience, you may wish to place your Facebook ads in specific locations. You have the following options:
Device type: Mobile, desktop, or both.
Platform: Facebook, Instagram, Audience Network, or Messenger
Placements: Feeds, Stories, in-stream (for videos), messages, in-article, and apps and sites (external to Facebook).
Specific mobile devices and operating systems: iOS, Android, feature phones, or all devices.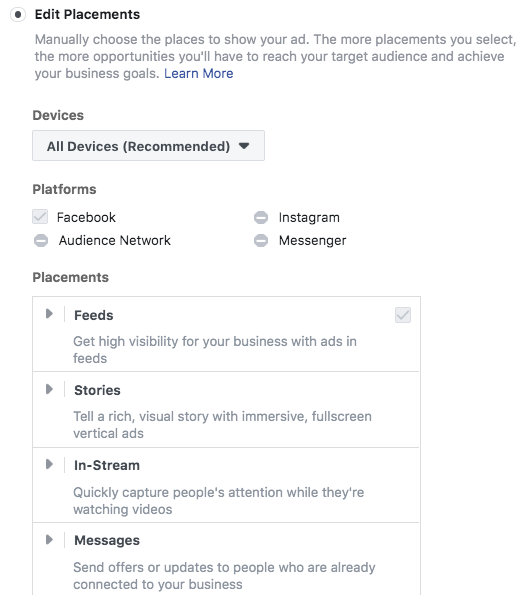 Step 6. Set your budget and schedule
Next, you decide how much money you want to spend on your Facebook ad campaign. You can choose a daily or lifetime budget, then set the start and end dates if you want to schedule your ad in the future, or choose to make it live right away.
You can also add in an optional cost and bid controls, which will cap the amounts per action rather than for your overall campaign.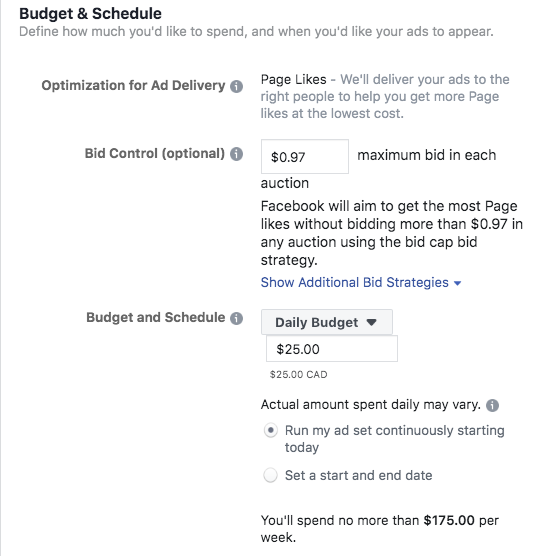 You can get into pretty fine detail about how you want to spend your money using the advanced budget options.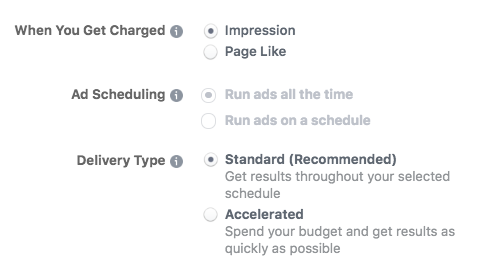 Keep in mind that running your Facebook paid ads on a schedule may be the most efficient way to spend your budget, since you can choose only to serve your ad when your target audience is most likely to be on Facebook. You can only set a schedule if you have created a lifetime budget for your ad.
When you've made your selections, and you're happy with the audience size indicator, click Continue.
Step 7. Create your ad
First choose your ad format, then enter the text and media components for your ad. The formats available will vary based on the campaign objective you selected back at the beginning of this process.
Use the preview tool at the bottom of the page to make sure your ad looks good for all potential placements (mobile, desktop news feed, right column, and so on). When you're happy with your choices, click the green Confirm button to submit your order, then wait to get an email from Facebook notifying you that your ad has been approved.
Facebook ad specs
There are a lot of details to keep in mind when getting your images and videos ready for Facebook ads. Since these details can change often, we've compiled them in a separate, regularly updated post of Facebook ad sizes.
We've also got a set of 16 free Facebook ad templates you can use to help create your ads in just a few minutes.
Text and objective specs for Facebook ads
To create the best Facebook ads, you need to keep the recommended character counts in mind. Anything beyond these text limits will be cut off.
You also need to understand which types of Facebook ad work with each of the ad campaign objectives described above.
Image ads
Headline: 25 characters
Link description: 30 characters
Body text: 125 characters
Campaign objectives: All except video views
Video ads
Headline: 25 characters
Link description: 30 characters
Body text: 125 characters
Campaign objectives: All except catalog sales
Facebook Stories ads
Text: No set character count. Aim to leave 250 pixels text-free at the top and bottom of the ad.
Campaign objectives: Engagement, messages, catalog sales, store traffic
Carousel ads
Headline: 25 characters
Link description: 20 characters
Body text: 125 characters
Campaign objectives: All except engagement and video views
Slideshow ads
Headline: 25 characters
Link description: 30 characters
Body text: 125 characters
Campaign objectives: All
Collection ads
Headline: 25 characters
Link description: n/a
Body text: 90 characters
Campaign objectives: Traffic, conversions, catalog sales, store traffic
Instant Experience ads
Text: Blocks of text up to 500 words each.
Campaign objectives: All except lead generation, catalog sales, and messages
Messenger Inbox ads
Headline: n/a
Link description: n/a
Body text: 125 characters
Campaign objectives: Traffic, app installs, conversions, catalog sales, messages
5 smart tips for running Facebook ads
1. Experiment with audience targeting
Start with a narrow audience and then broaden it slowly by adding one interest category at a time. For example, you could start with an audience specifically interested in "Napa Valley wine tours" and then broaden it after a few weeks.
You could start by adding adding "wine tasting," then "food and wine," and so on. That way, you'll have a good idea of how expanding your target audience affects your results.
We go into this concept in detail in our post on how to use Facebook Audience Insights.
You can also use audience targeting to create different ads for groups related to different business goals. For example, you can speak to existing customers differently than you do to people who have never heard of your business before. You can also offer promotions based on your existing relationship.
If you have a local business, you can target your audience by zip or postal code. This is also helpful if you know a particular city or neighborhood converts well.
Pro tip: Be careful with the assumptions you make about your audience when choosing your targeting options. Since moving to Europe, I get a lot of Facebook ads that make perfect sense based on where I live. One problem: They're in Dutch, which I don't speak (yet).
Advertisers are paying to show me ads I don't understand, which they could easily avoid with language targeting.
2. Use the Facebook Pixel
The Facebook pixel is a small piece of code that can have a big impact on your Facebook ad campaign. Once you place the code on your website, it allows you to track conversions, remarket to people who have viewed a product on your site, and create lookalike audiences.
Even if you're not ready yet to engage in some of the more advanced Facebook Pixel strategies, you should install it now. That way you'll have tracking and remarketing data ready to go when you are ready to start optimizing your Facebook ads.
Use our step-by-step guide to using the Facebook Pixel to get it set up on your website now.
3. Use top-notch photos and video
You know what's a turnoff? Blurry photos. Or pixelated photos. Or jumpy videos that make you feel sick. Your words are important, sure, but your visuals are what will first grab viewers' attention and create the best impression.
These free stock photo websites can help you source high-quality images to use in your ads.
4. Test everything
It's important not to make assumptions about what will work and what won't in your Facebook ads. Every time you try something new, you should test it against your previous ads so you can see whether you're making improvements to the metrics that matter most to you.
The best practices for Facebook ads are constantly changing. Only you know what works for your specific audience. And the only way you can keep that knowledge up to date is by testing.
Since this is such an important topic, we've got a whole guide on how to use social media for A/B testing.
5. Track and optimize performance
Closely monitor how your campaigns perform in the Facebook Ads Manager dashboard. If a campaign isn't performing well, put your money into an ad that is instead.
If you're just starting out, it might make sense to run several ads with small audiences and budgets. Once you've determined what works best, use the winning ad as your primary campaign.
Here are a couple more resources on this:
There are tools that will simplify—and even automate—this process.
For solo marketers, agencies, and small to medium-size businesses, AdEspresso makes creating, managing, and optimizing ads quick and uncomplicated.
If you work for a larger organization, we of course recommend Hootsuite Ads. From the same dashboard where you monitor all your other social channels, you can create and test hundreds of Facebook ads in minutes. And with easy-to-understand analytics, you can uncover your best ads at a glance.
You can also re-allocate money from your under-performing ads to top-performers (even if they're on another social network). Automatically boost budgets or start new campaigns based on pre-set performance triggers. And then improve performance further with automatic, daily recommendations.
Why Advertise on Facebook?
Facebook ads are the most popular form of online advertising of our time.
Reports by Forrester Research and eMarketer show that 25% of total online spending in 2018 will go toward social media.
And, 90% of social media users are on Facebook –– which is significantly higher than the other platforms.
But beyond the famed success of Facebook Advertising for online businesses, Facebook is continually expanding its offering.
In total, you have:
Facebook Shop: Where your Facebook fans can shop on your fan page and from which your dynamic product ads pull, as well as your Instagram Shopping catalog.
Facebook Marketplace: Where you can engage in Etsy-like peer-to-peer selling without the fees. In addition, Facebook's recent Marketplace update bring in Instagram-like recommendation features to expand your store's reach.
Facebook Dynamic Retargeting Ads: Where you can retarget users who landed on your site with similar products to what they viewed, and in which Facebook uses an algorithm to pull the products from your feed that have the highest engagement (must be using Facebook Shop for this to work).
Shopping on Instagram: Where followers can shop tagged items in your Instagram post (must be using Facebook Shop for this to work)
Shopping on Stories: Where followers can shop tagged items in your Instagram stories (same thing, must be using Facebook Shop for this to work).
Indeed, the Facebook ecosystem has built an ad network with substantial reach power for brands of all sizes.
There's only one question that remains:
How do I set my own brand up for success within Facebook's ad ecosystem?
The answer to that question depends on your budget, goals and experience. You'll need to be able to answer additional questions, including:
What kind of budget should you allocate to Facebook?
How do you accurately measure your ad performance?
What ad types should you use?
What's an effective way to create an audience?
And that's what this guide is for. We are here to help you navigate the Facebook Advertising waters to ROAS (return on ad spend) success.
Imagine an advertising tool that helped you reach your ideal customers based on what they like, their interests, and their behaviors. A tool that saved you time and money by optimizing your ad delivery to get your message in front of those most likely to convert.
That's what you get with Facebook advertising, a platform used by many ecommerce entrepreneurs, especially those just starting out without much advertising experience or a big budget to spend. Anyone can fuel their business growth with Facebook ads, as long as they're willing to learn the basics.
In this beginner's guide, we'll look at what makes Facebook such a popular advertising platform with so many brands and walk you through step-by-step how to set up a Facebook ad campaign to drive sales for your business.
Why use Facebook for advertising?
With so many options, deciding where to spend your marketing budget can be difficult. What makes Facebook particularly attractive for new and experienced business owners boils down to three things:1. Driving traffic from an active and engaged user base

Facebook is a place where we connect with family and friends, and—as much as we hate to admit it—it's pretty darn addictive. Facebook reportedly has more than two billion active monthly users, and those users spend more time on Facebook than on competing social networks. In addition, Facebook owns Messenger and Instagram, two other popular mobile apps accessible to Facebook advertisers through its advertising platform. That's a lot of active, engaged traffic.
2. Targeting customers based on demographics, interests, and behaviors
Facebook is designed for sharing personal updates and information, such as vacation photos, new songs you've discovered, and relationship statuses, with your network. All the likes and connections made on Facebook and Instagram create detailed user profiles that advertisers can tap into through targeted ads. Facebook advertisers can match their products and service against a long list of the users' interests, traits, and behaviors, resulting in a higher likelihood of reaching their ideal customers.
3. Generating brand awareness
Most businesses have a Facebook and/or Instagram business page they use for connecting with their fans and customers on social media. When you decide to use paid ads on Facebook and Instagram, you can opt to have them come from your brand's social pages. This often results in increased brand exposure and new followers for your company, which is one of the benefits of advertising on social platforms.
Step 1: Setting up your Facebook Business Manager
Many of the people who give up on their Facebook advertising efforts do so because they set up their account incorrectly or become so overwhelmed by Facebook's myriad ad options that they never make it to the point of actually running a campaign.
So, to start off on the right foot, the first step is to ensure you set up your Business Manager account correctly.
Business Manager is the section of Facebook that will house your Facebook ad account, business pages, and other tools you'll need to run your ads.
To create your Business Manager account, go to business.facebook.com and click Create Account.
Facebook will ask you for your business name, your Facebook business page (create one first if you don't have one), your name, and your email address.
Next, you'll need to create or add an existing advertising account. This can be done by choosing Business Settings in the Business Manager menu, then clicking Accounts and Ad Accounts. You will be given the option of adding an existing ad account, requesting access to an ad account, or creating a new ad account. If you've never advertised on Facebook before, click Create a New Ad Account and follow the prompts.
Now that you've set up Business Manager and connected it to your Facebook business page and ad account, your home screen should look like this:
This is your advertising hub, where you can navigate to all the different areas of your business on Facebook.
Step 2: Installing the Facebook pixel
One of the most common frustrations among new Facebook advertisers is understanding whether or not their ads actually worked. It's possible to boost a post, or even set up an advertising campaign in Ads Manager, but without installing the Facebook pixel you won't know whether an ad drove any sales on your website.
The Facebook pixel is the connection point between your Facebook ads and your website. The pixel is a tracking code you need to create within your Business Manager account and then add to your website before you begin paying for ads. It shows you all the actions being taken by visitors coming to your website through your Facebook ads. Essentially, the Facebook pixel tells you not only if your ads drove results but which audiences and pieces of creative those conversions came from.
Setting up your Facebook pixel in eShopoly
Setting up the Facebook pixel on your website is easier than it sounds and rarely requires digging around in code.
If you're using eShopoly, setting up your Facebook pixel is as easy as copying your pixel ID (a 16-digit number) from your Business Manager account and pasting into the Facebook pixel ID field, located under Online Store in the preferences section of your eShopoly store.
You should start seeing your website's activity within a few hours of adding your pixel ID to your eShopoly store. Stats such as visitors, add to carts, and purchases are recorded in your Business Manager account under Pixels.
Step 3: Creating Facebook Audiences
Targeting the right people with your ads is one of the keys to being successful with Facebook advertising. Facebook has billions of Facebook users worldwide, so finding those most likely to be interested in your brand or product requires the use of Facebook's audiences feature.
Audiences is a section within Business Manager where you can create lists of people to target with your ads. There are several different features available within the audiences section to help you define these lists, but they can be divided into two broad categories: retargeting and prospecting.
Retargeting: Converting warm audiences
Someone who has visited your website, added something to their cart, or followed you on Instagram is more likely to consider buying something from you—they might just need a little encouragement.
If you've ever browsed a brand's website and then found yourself targeted by its ads every time you open Facebook or Instagram, that's called "retargeting," and it's one of the most effective forms of Facebook advertising.
You can create retargeting audiences using the Custom Audiences feature, located in the Audiences section of Business Manager. Custom Audiences offer you the option to tap into all the data captured by your Facebook pixel and business pages.
When creating a Custom Audience, you are given a list of different sources to draw from. The three main sources ecommerce businesses will want to use are customer file, website traffic, and engagement.
1. Customer file
Customer file allows you to upload a list of email addresses, phone numbers, and any other contact information you've collected from customers or leads. Facebook matches this information back to its own users so you can target them directly with your ads. Creating an audience using a customer file is great for re-engaging past customers with new products or reaching email subscribers who haven't yet made a purchase.
2. Website traffic
Website traffic allows you to create a retargeting list for reaching your website visitors. Here, you can create lists of various sizes, based on actions taken or pages visited on your website. Common retargeting lists that generally convert well include those who visited your website in the past 30 days or added something to their cart in the past seven.
3. Engagement
If you have an active Facebook or Instagram page for your business or have been experimenting with ads that are getting engagement (i.e., likes, comments, and shares), you might want to retarget these engagers as well. Selecting Engagement from the Custom Audiences options takes you to another list of various types of engagement you can retarget. Whether you have a video collecting lots of views or an event that had a large number of attendees, retargeting different groups of engagers is an effective way to bring prospects who may be interested in making a purchase to your website.
Prospecting: Finding new customers
Finding new customers is an even better way to scale your business using Facebook ads than retargeting past customers and converting website browsers.
Looking for new customers is often referred to as "prospecting" and involves advertising to those who have not purchased from you or interacted with your business online. For small and medium-sized businesses, this encompasses the majority of Facebook's billions of active users, and deciding how to start narrowing down that list can be difficult.
To help, Facebook created two useful tools that help businesses find the best potential new customers:
1. Lookalike Audiences
One way Facebook finds good prospects for your business is by using a list of customers or leads you've already collected. Lookalike Audiences use the data from your Custom Audiences to create a new audience filled with Facebook users that share similarities with your existing customers.
Lookalike Audiences can be created using any of your Custom Audiences, and range in size and likeness from 1% to10% of a selected country's population. A 1% Lookalike Audience contains people who most closely resemble the Custom Audience source and therefore are an easy first target for your prospecting campaigns.
As you expand your targeting and increase your budget, moving to a 3%, 5%, and eventually 10% Lookalike Audience eventually can provide you with more scale while still being tied to a user profile that matches your customer.
2. Interests, behaviors, and demographics
If you don't have a list of past customers or website visitors to create a Lookalike Audience, you can use Facebook's interest, behaviors, and demographic data to create prospecting audiences using the saved audiences option.
Here's a breakdown of each category, with examples of sub-groups within each one:
Interests relate to pages and content Facebook users have interacted with (e.g., K-pop, scuba diving, exercise)
Behaviors are actions taken by users that were recorded by Facebook (e.g., celebrating a birthday, moving to a new city, having a baby)
Demographics include user profile information (e.g., new moms, engineers, college grads)
There are likely several audiences you'll want to test from all of the options available within interests, behaviors, and demographics. The Audience Insights tool can help you narrow down these options and identify categories for testing.
Audience Insights can be found in Business Manager under the Plan section of the main menu. It allows you to use your Facebook page or enter demographic information about your potential customers. The tool reveals information about your potential audience, such as what pages they are apt to like on Facebook, what devices they use, and what towns or cities they live in.
The information gathered in Audience Insights can be used to identify new Interests for targeting experiments, as well as placements and locations that might work for your chosen demographic.
Since interest, behavior, and demographic audiences are usually quite broad and consist of hundreds of thousands to millions of users, it's good practice to test them individually so you can find which one works best. Once you have narrowed in on audiences that convert through your ads, you can start experimenting with additional audience layers to broaden your prospecting campaigns.
Step 4: Creating a Facebook Campaign
The ads you see in our Facebook feed—those images, videos, and carousels accompanied by the word "Sponsored"—are actually part of a larger setup created by advertisers called a campaign.
The first step in creating your ads is creating a campaign for them to live within. The structure of a campaign, and its corresponding Facebook ads, looks like this:
Within each campaign is an ad set. This is where you choose your audience, budget, and targeting, as well as the ad users will see. A single campaign can contain multiple ad sets, allowing you to test various audiences and individual ads against each other to find which of each performs best, so you can focus there.
Choosing an objective for your campaign
To begin creating your first campaign, go to the Ad Manager within your Business Manager account and click the Create button. From there, you will be asked to select an objective.
There are three categories of objectives within Facebook ads: awareness, consideration, and conversion.
Under each category is a short list of more detailed options, such as traffic, video views, and product catalog sales. You should consider what your goal is as a business and what you want to achieve with your Facebook ads, and let the answers guide your decision.
Here are some examples of how different goals will affect the campaign objectives you set:
If you want to increase sales on your website, set your objective to Conversions
If you are having trouble making sales in your online store, you might want to choose Add to Cart (which typically costs less than Conversions)
If you aren't selling a product yet but want to generate buzz or awareness, the Brand Awareness objective is a good way to get low-cost impressions
If you are having trouble driving traffic to your website, choosing Traffic as an objective can help create a retargeting list for another campaign
If you want more likes, comments, and shares on a post to create social proof, set your objective to Engagement
No matter what objective you choose, Facebook will always charge you for impressions—the number of people your ad is served to. It is important to communicate to Facebook what your objective is so your ads will be optimized to reach your goal. If you choose Traffic but are actually looking for website purchases, you won't be guaranteed to reach your goal because it was not chosen as your objective at the campaign level.
Before moving onto ad sets, you will need to also name your campaign, an important consideration that's easy to overlook.
Coming up with a naming convention for your campaigns, ad sets, and ads helps keep your account organized. Naming conventions are a system you create to help you identify your objective, who you're targeting, and where your campaign fits into your overall strategy, at a glance. Your campaign names can also identify which Facebook audience (e.g. prospecting or lookalike) the campaign is targeting and other key information: Prospecting – Conversions – 03.24.19
How you choose your naming conventions is up to you. The most important thing is that you are consistent so your account stays organized and easy for you, or other members of your organization, to navigate.
Step 5: Setting up your Ad Sets
After choosing your campaign objective, Facebook directs you to the ad set level, where you'll have the opportunity to choose:
Which audience you wish to target
The budget you want to spend
The placement of your ads within Facebook's network of products.
You may be asked to provide more information on the type of event you want Facebook to optimize for, depending on what you chose as your objective. For example, if you chose Conversion, hoping to get more sales on your website, you will need to choose the type of conversion event you're hoping for, within the ad set section:
Note: Facebook can only optimize for conversion events it has seen on your website. If you haven't received any purchases or add to carts, the option to optimize for these events may not be available to you. In this case, you can choose Traffic and aim to unlock the option to optimize for purchases down the line.
Setting your budget and schedule
The next step within ad sets is to enter your budget, and choose whether you want it to be a daily budget or a lifetime budget. Deciding how much to spend depends on several factors:
How much money you've budgeted for marketing: you can only spend what you can afford
The cost of your product: higher cost items generally require a higher ad spend
The objective you're optimizing for: sales-focused objectives like purchases usually cost more than awareness-focused objectives like engagements and clicks
Your average customer acquisition cost: if you have tried paid advertising on other platforms and have a customer acquisition cost, you will want to apply it here
You always want to make sure you are giving Facebook ads a fair shot by allocating enough budget to achieve your goal. Once your ads are published, you need to allow time (and budget) for Facebook's "learning phase"—the period when its algorithm examines your data and begins optimizing to successfully meet your objective.
Audience
Within ad sets, you will be given the option to select and refine a prospecting or retargeting list you created in the Audiences section. Choosing locations, genders, ages, and languages can help narrow your audience further and provide more variations to test in different ad sets.
Further down the page, is the option to add detailed targeting through Facebook behaviors, interests, or demographics. Here, you can opt to use these categories to create a new audience to layer on top of your existing audiences, or simply stick to a Custom or Lookalike Audience you've selected above.
At the ad set level, you also can target people based on a Connection by tapping into lists of people who like your business page, app, or events, as well as their friends. If you have a large number of people that fall into these categories, targeting based on connections could put your ad in front of a great prospective audience.
Placements
Finally, ad sets give you the ability to select where you want your ad to appear. As mentioned above, Facebook owns other popular apps, giving it the ability to place ads outside its own News Feed. If you are interested in reaching only Instagram users, for example, ad sets let you exclude all other placements.
Facebook recommends selecting automated placements for your ad set. This option allows Facebook to optimize for your campaign objective by using all placements available to produce the best results.
Step 6: Choosing your creative (your ad)
The final step in creating your Facebook ad is coming up with the creative—the ad itself.
Facebook advertising is quite different than traditional advertising and has its own set of best practices for creative that actually converts.
When creating an ad, you will be given the option to select the Facebook business page and/or Instagram account that will present your ads. This secondary benefit is a great opportunity to grow brand awareness and social media followers, even if it isn't your overall campaign objective.
Retargeting with dynamic product ads
One of the most common Facebook ad formats in ecommerce is the dynamic product ad. If you've ever browsed a store online and then been retargeted with the exact products you viewed, you have seen a dynamic product ad in action. These ads pair your Facebook pixel data and your Facebook product catalog, so visitors to your website are shown products they looked at or added to their cart.
The Facebook product catalog is another connection between your business website and your ad account that can be set up within Business Manager, under the Assets menu. You can create a catalog through your Facebook pixel or, if you are using eShopoly, you can add the Facebook sales channel and sync products seamlessly to your ad account.
Once your catalog is created and you're ready to make a dynamic product ad, return to the Ad Manager and create a new campaign with Product Catalog Sales as the objective. This will allow you to select your product catalog at the ad set level, as well as customize who you want to show relevant products to.
Aside from retargeting past purchasers or website browsers, you can also use dynamic product ads for prospecting. If you choose this option, Facebook will show products on your store it believes will be relevant to new prospects, based on their profile data, even if they haven't visited your website before.
Step 7: Optimizing your Facebook campaigns
Setting up a campaign on Facebook is an important first step, but learning how to monitor its performance and optimize it over time is necessary if you want to succeed on the platform. Typically, you will want to check in on your Facebook ads at least once a day (even more frequently as you increase your spend).
It might be tempting to make changes to your targeting or turn off an ad if you don't see purchases after one day, but it's important to be patient.
Facebook ads need time to optimize so the algorithm can learn who is most interested in what you're selling. If you aren't sure whether you should turn off your ad, try waiting until it gets at least 1,000 impressions before investing more or shutting it down to test something new.
Creating a funnel
Prospecting and remarketing are both important audiences to target, but they generally work best when done together to create a "funnel".
A funnel is a marketing strategy based on the simple fact that the vast majority of people you market to aren't ready to buy right at that moment. A funnel-based approach to marketing focuses on tailoring your advertising depending on your audience's intent to purchase and familiarity with your brand and products.
Creating a funnel on Facebook can be done by targeting a cold audience of prospective customers, such as a Lookalike Audience or a behavior-based audience in one campaign, and retargeting those who visit your website in another campaign. As you scale your advertising budget, your funnel can become more intricate, with multiple campaigns that target customers at different points within the funnel:
The above example shows how one campaign can be used to drive awareness and traffic from a larger audience at the top of your funnel and subsequent campaigns can re-engage or retarget that traffic to bring them back to purchase.
If prospecting is not generating sales for your business, choosing a less expensive, higher-funnel objective, such as traffic or add to carts can create a list of prospects to retarget with a second campaign. This effectively will create a funnel with your Facebook ads, where you can serve each audience different types of creative that bring prospects back to your website to complete a purchase.
Start using Facebook ads to grow your business
The Facebook advertising platform is designed to be easy to use for those with little to no experience with digital marketing, making it even more attractive to bootstrapped entrepreneurs who don't want to pay an agency to run their ads.
If you take the time to learn the basics of Facebook advertising, set up your account correctly, and launch a campaign, Facebook ads can continue to fuel your business as it grows.
How to Master Your Facebook Ad Targeting Strategy
1.45 billion people log onto Facebook every day.
This makes Facebook ads a great, cost-effective tool when you want to promote your products to a wide range of people.
Of course, that's still A LOT of people.
Facebook's advanced targeting system helps you cut through the noise to find your ideal customer.
The key to Facebook marketing success can be summed up as: "Show the right message to the right people."
By the time you're done with this chapter, you'll know how to:
Design your ads like a pro.
Target your ads like an expert.
How to set up effective A/B testing.
Analyze test results to be able to optimize your Facebook campaign.
Facebook Ad Campaign Goals
A powerful message does more than present a product, it's creates a connection with your prospective customer and demonstrates how your product may help to solve their problem(s), reach their goals, and make their life happier and more comfortable.
Good ads also often evoke emotions and feelings.
For example, if you are writing an ad to market a laptop bag, it may be beneficial to point out:
How this bag can protect the expensive laptop
How comfortable it is and/or how luxurious the finish feels to the touch.
Facebook provides businesses with an opportunity to test a wide variety of targeting types to find the most cost-effective ways to drive leads and sales.
These targeting options can be broadly separated into 2 categories:
Cold Traffic
Retargeted Traffic
Let's take a look at each.
1. Cold traffic.
These are people who are not aware of your product or brand and have never been to your site.
Marketing to these audiences helps you increase your brand awareness and recognition.
Facebook allows you to target people based on the following:
Interests and Brands – pages, events, businesses users follow (e.g. target people who like "Facebook Business page").
Life events and some profile status – e.g. people who are recently engaged or have children.
Age and gender.
People at a specific location – from an entire continent down to a 1 mile radius.
People who speak a certain language.
Lookalike Audiences – Lookalike audiences are a very useful type of targeting where you can request Facebook to serve ads to people who are similar to an audience you provide.
For example, you can easily download the emails of your previous customers from your BigCommerce site and then upload them to Facebook.
Then upload them to Facebook by using the "Create a Lookalike Audience" feature.
You can then use that list to create a lookalike audience of similar people in your country that you can market to.
You can learn more about Lookalike audiences, as well as a detailed explanation on how to create one here.
2. Retargeted traffic.
These are people who visited your website and/or came in contact with your brand.
This includes:
Website visitors, including people who visited specific pages.
Facebook video viewers.
People who engaged with any of your organic posts or ads.
Facebook page likes.
A custom list that you upload to Facebook, for example people who signed up to your newsletter.
You can show these visitors ads that remind them of products they have visited on your site.
Your ads can be generic ads referencing your various products, or they can be dynamic ads so you don't have to created individual ads but promote all your products.
BigCommerce allows you to effectively connect your store's inventory with Facebook so you can create dynamic campaign ads.
Audiences and Levels of Awareness
First of all, let's talk about two secret marketing superpowers: empathy and realistic expectations.
Every time we create an ad campaign, we expect something of this campaign (sales, views, comments) and we ask the prospective customer to take a specific action.
It's critical to set up measurable and realistic goals and expectations for your campaign and your potential customer.
This is where empathy comes into play.
Imagine being approached by a total stranger on a street and asked to invest $1,000 dollars in a new long-lasting self-charging battery for your iPhone.
This example is extreme, but it illustrates the situation very well.
Let's pull it apart:
You may not have an iPhone to begin with.
You not be willing to break your iPhone warranty and tamper with the device to install the battery.
But most importantly – you don't know the product and you don't trust the seller enough to give them your hard-earned cash.
Thus, the success rate of this sales experiment is probably zero.
Yet businesses market to their potential customers like this all the time.
This is the standard model of advertising that television, radio and print ads use, commonly known as "spray and pray."
Let's look at another example.
A representative of a charity approaches you on the street and says,
"Ma'am, I see you are carrying baby formula home from a supermarket. Do you know that thousands of children in America still suffer from malnutrition? And donating just $10 this month can help a child in need today."
Here's how this breaks down:
This representative recognized who "you" are – they acknowledge your unique circumstance and see you as an individual.
They make the problem relatable to you.
They provide a solution to the problem. Crucially, a solution that is realistic, achievable and affordable for you.
This campaign will be more successful and deliver more sales or pledges than the one described above, because the right audience was targeted.
A successful Facebook campaign is designed in exactly the same way.
First, by targeting the right people, second by acknowledging and connecting with them and third, giving them a realistic call to action.
PRO TIP
It's important to mention that retargeting campaigns will almost always outperform cold traffic campaigns.
The primary objective of a cold traffic campaign is to introduce your product and create trust.
Then you use a retargeting campaign to move into more "direct sales" style ads.
Want more insights like this?
We're on a mission to provide businesses like yours marketing and sales tips, tricks and industry leading knowledge to build the next house-hold name brand. Don't miss a post. Sign up for our weekly newsletter.SUBSCRIBE
Targeting: Who to Address and What to Ask
Let's examine this idea in light of various targeting options.
Cold Traffic "Whos & Whats."
First of all, we need to keep in mind that cold traffic audiences are not aware of your brand or product.
Furthermore, they may not even be aware that your solution to their problem exists.
This means that you should focus on clarity and descriptiveness in the ads targeting cold traffic.
Here are a few ways to create clear ad copy:
Create lists showcase the benefits and/or features of your product or service.
Make sure that the title of the ad is clear and yet short enough to fit in the mobile feed.
Prioritize education and awareness about your product over the "hard sell."
Use banners or videos to clearly display your product.
Call out who the product is designed for e.g. "calling all aspiring chefs," "as a busy mom," etc.
PRO TIP
Take advantage of specific targeting. For example, if you are an active wear brand targeting CrossFit fans, it could be good to test ads that includes something like "CrossFit box essentials," "perfect for your fav CrossFit WOD," etc.
RECOMMENDED POSTS
This is probably the biggest mistake I see ecommerce sellers make with their Facebook ads. They present a 90% off coupon to a completely cold audience that doesn't even know they need the product being promoted. Then, sellers are surprised when an ad doesn't perform.
Warm Traffic "Whos & Whats."
Retargeting traffic requires less education.
These audiences already know your brand and your product. What they really need is a "good excuse" to buy.
This "excuse" can be:
Discount codes and flash sales.
Featuring a specific item in your collection. ProTip: carousel ads can be great for featuring items.
Sharing a compelling testimonial.
Limited editions and last chance offers.
Example from The Mountain targeting "warm traffic" visitors with a coupon code.
RECOMMENDED POSTS
If you aren't advertising on Facebook ads yet, you're missing out. Get started by setting up retargeting. I've found that Facebook almost always outperforms every other retargeting platform that I've used and it's pretty much a guaranteed way to collect more sales and see positive ROAS.
Now that you know the difference between cold traffic and warm traffic, here's how you run each campaign type.
26 FACEBOOK ADVERTISING EXAMPLES
Facebook stalking your competition to preview their ad examples is time consuming. That's why we did it for you. In this guide, you'll get access to 26 different ecommerce Facebook Advertising examples across verticals.
We've also included:
Facebook Advertising type
Why the ad works
How to set up your own
Cold Traffic Campaigns
Demographic Targeting.
Location.
You can target people in specific countries, states, cities, or even suburbs.
You can also exclude people from specific locations.
Keep in mind the size of your potential audience; the smaller the area that you pick, the fewer people you can reach which may affect your campaign performance.
Age, Language and Gender.
This is a pretty straightforward option.
Make sure that you pick a relevant age bracket. The trick here is to avoid keeping the age range too narrow because you want to allow Facebook some flexibility to find your ideal client.
For example, if your ideal client is in their 30s, set up 20- 50 years old as an age bracket.
Detailed targeting.
You can target users by demographics, interests, behavior, and other categories defined by Facebook.
Demographic targeting can be extremely useful for event-based products and services.
For example, a wedding florist can target all "Engaged" people in their area.
Simply click "Browse" in your Ads Manager to looks through all the available options.
PRO TIP
Feeling stuck? The Audience Insights tool can help you to come up with new targeting ideas. Click on "Custom audience" and pick any of your audiences you wish to cross-reference.
You can also pick "Interests."
The Audience Insights tool will allow you to see the demographics of the audience you chose (if you chose your website visitors audience, you'll see their demographics).
Click on the "Page Likes" tab, and you'll see what Facebook pages your selected audience follows.
Use Audience Insights to see what pages people in certain interest groups like to better understand your target audience.
Lookalikes.
There's a lot of buzz in Facebook marketing community about Lookalike (LAL) audiences. So, what is their magic?
It's an amazing way to dynamically target good quality audiences.
The trick here is to choose the right source for your Lookalike, the two key criteria are source audience size and quality.
For example, if you have a newsletter list of 10,000 people but you only have 100 sales so far, use your newsletter list as a source for your Lookalike audience.
In situations when you have a good volume of sales data (500+ emails), the list of previous clients will be an amazing source for your Lookalike audience.
Some good sources of Lookalike audiences include:
Previous customers
Newsletter signups
Facebook followers
Frequent website visitors
Frequent video viewers
You can also pull data from your BigCommerce Insights reports like Best Customers and top Customer LTV Value to create Lookalike audiences with a high probability of converting.
How To Create a Lookalike Audience:
Prepare a list of people you wish to use for the lookalike.
Go to the Hamburger menu in the top right corner.
Go to Assets > Audiences.
Click Create a Lookalike Audience button.
Select your source (the list of people you prepared).
Select your location(s).
Select your audience size.
Click Create Audience button.
Did you know that you can also create Lookalike from your audience phone numbers as well as emails?
ADVANCED TIP
Facebook now allows you to feed the Lifetime Value of the customer into its system, so you can create a better targeted Lookalike audience. This means that the people who spend more on your website will be given a priority when generating the Lookalike.
Overlays.
You can narrow down your audience by overlaying your targeting to find a precise audience match.
For instance:
For a wedding florist, you can pick females only, who are engaged AND who follow a number of wedding magazines.
For a children fashion clothes brand a good test may be to target all mothers who ALSO follow major online retailers or frequently shop online.
Warm Traffic Campaigns
Now let's look at the retargeting campaigns.
Retargeting campaigns are the heavy lifters of your account. They tend to bring the most results at the cheapest cost per conversion.
These campaigns target people who are already familiar with your brand and/or offer and need just a little extra incentive to commit.
An example of the incentive could be an inspiring testimonial, discount or limited time offer.
Here are some retargeting audience ideas
Most frequent visitors (e.g. 25% of people who visited your website).
People who visited specific pages.
People who viewed your page's videos on Facebook.
People who engaged with any of your posts and ads.
People who signed up to your newsletter, downloaded your free ebook or completed any other conversion goal.
A custom list uploaded from your BigCommerce store (e.g. customers, newsletter subscribers etc.).
PRO TIP
Set up a cart abandonment campaign in Facebook to target people who visited your
shopping cart page. We recommend offering them a small discount to convince them to complete the purchase.
Example of an from Nine Line Apparel targeting visitors who abandoned cart.
To maximize your ROI on ads, it's important to test various types of offers and creative on your remarketing campaigns.
Test video ads (testimonials, product tours, message from the owner/founder), carousel ads (showing the range of products available or showing features), ads with discounts, and more.
You already know that this audience is pre-qualified and has certain knowledge of your product/service.
Knowing what trigger makes them commit and make the purchase is ultimately what will make your campaign a success.
RECOMMENDED POSTS
Showing ads to the right people is an important factor in Facebook advertising success.
But selecting the right audience is challenging. An easy way to get around this issue is to upload your customer list and then build a 'Lookalike' audience, where the Facebook algorithm will pick people similar to your current customers.
Tracking and Measuring Results
First of all, you need to set up your Facebook pixel on your BigCommerce website by following these instructions.
Copy your Facebook Pixel ID to the Facebook Pixel Tab in the BigCommerce Control Panel.
When you have BigCommerce and Facebook connected, your store will automatically start tracking purchases and add-to-carts.
If you would like to run newsletter sign up campaigns, offer free guides, or track any other kinds of conversions, you need to set up custom conversion events.
You can do this by going to Custom Conversions and specifying the confirmation URL that is after the lead submission page.
Testing and Optimization.
We covered all the fundamental aspects of campaign targeting. Now it's time to look at structuring the campaigns.
When setting up your campaigns, separate them by the message and purpose.
For example, if you offer a discount code for abandon carts,those ads should be in their own separate campaign.
Also split your retargeting and cold traffic, and adjust the ad design and content to address the audience's needs.
Example of Ray-Ban generating awareness around a new store opening.
Giant Teddy remarketing to visitors who abandoned cart.
It's better to be more descriptive for cold traffic audience and focus on introducing the product, as opposed to remarketing, which can be more direct sales oriented.
Cold Traffic Campaign Structure.
Set up a few campaigns to test a variety of target audiences.
You can optimize your campaigns by testing the following campaign elements:
Conversion event. The action you want your visitor to take.
Optimization for ad delivery. Choose how you want ads to be delivered such as optimized for clicks, conversions, or daily unique reach.
Conversion window. 1-day or 7-day conversion window post-click or view.
Start by isolating each audience into separate ad sets and use the same ads for each of those ad sets.
This way you can see which audiences perform better for your offer, as well as adjust a spend to prioritize more successful audiences.
Once you know you best performing audiences, you can test various types of ads or copy.
Test ad copy either in separate ad sets (similar to audience tests) or in separate campaigns. This helps you to see any possible correlation between the audiences and ad types.
How much should you spend on ad tests?
A good rule of thumb for testing is to spend 2-3 times the target cost per conversion, per ad set.
For example, if you are expecting a conversion cost of $10 per event, spend at least $20-30 per ad set before making your first optimizations (or switching off underperforming ad sets) to make sure you gather enough performance data.
Remarketing Traffic Campaign Structure.
Your retargeting audience campaign structure can be very similar to your cold traffic campaign.
This setup will help you learn the best type of remarketing audience for your product and will also help you test various creatives
Prevent your retargeting campaign from burning out by changing and updating ads, and using burn pixels remarketing cookies.
Quite often, the new retargeting campaign performs amazingly well after launch, but it slowly dies down with time.
The main reason for it is something called cold "frequency."
This is the number of times any individual in your selected audience has seen the ad. The higher the frequency, the less changes of a person to take action.
To keep your offer fresh and campaign performing well, rotate the ads and mix up different types of creatives.
You can do this by switching various ads on and off inside the ad sets, or by running multiple campaigns with different creatives.
You can check your frequency by clicking "Performance" in your campaign view.
What do you do if your campaign does not spend its entire daily budget?
Try changing optimization settings (from conversion to clicks) or try setting up a higher manual bid instead of an automatic one.
Bonus Ideas for Your Facebook Ad Campaigns
Testing is the key to discovering what resonates with your specific audience. Below are some additional strategies to test with your audience to improve your sales and revenue.
Digital products selling tips & ideas.
Focus on list building. Offer free guides or other lead magnets to collect prospects' emails, especially for cold traffic. This way you can nurture your leads via email as well as Facebook ads, which may be a more cost-effective way of selling this type of product.
Focus most of your direct sales on retargeting audiences.
Test selling via online training and webinars.
Test bundle offers and selling multiple products at once. This will help you increase cost per sale.
Test coupon codes for retargeting audiences. These discounts don't have to be massive. Remember the discount is not just the value offer but also acts as a psychological trigger.
Retarget previous customers. We all want recurring business, which makes these people your best audience, as they already know how great your products are. BigCommerce's customer insights reports identifies these top customers – and more – so you can re-engaging them with new offers and exciting items.
Brick and mortar selling tips & ideas.
Test awareness campaigns, targeting people in your local area. You want your brand to be easily recognizable and top of mind. This will boost the number of walk-ins and help your physical store thrive.
Offer online coupons that are redeemable in your physical store. These coupons can be synced with your inventory, using a service like Square POS, to keep your online and offline sales up-to-date.
Promote events and in-store specials. This can be a great campaign to promote in your local community, as well as a way to re-engage your retargeting traffic and previous customers.
Make sure the look and feel of your ads is consistent with the atmosphere in your store. This will ensure your brand is easily recognizable and will create an instant connection in your prospect's mind.
Congratulations! Now you are officially a Facebook targeting expert.
We covered a lot of information in this chapter, including:
Various types of audiences
What messages to select
How to run your tests
How to maximize the results in your campaigns.
To sum up, if you want to implement some things straight away, we recommend you start with a remarketing campaign.
It will give your bottom line an immediate boost and will excite you about Facebook ads even more!
How Much It Really Costs to Advertise on Facebook
Everyone knows Facebook is a pay-to-play game, so then the question is:
How much does it cost?
The practical answer:
Spend $1 for every 100 website visitors you get each month.
Sounds arbitrary, I know, especially since all businesses are different.
You could be selling digital products, gym memberships, or dog toys — but this will be a good starting point.
We have clients that spend $100,000 a day on Facebook ads — but they are probably not like you.
They have massive media budgets and teams of people that do things like Super Bowl ads.
They budget "top down," meaning that their spend is based on what they spent last year and a share of this years' projected company revenues.
They can afford million dollar mistakes. You can't.
Whatever the case, the three parts of the funnel are audience, engagement, and conversion (we shorten it to AEC).
The goal is to generate:
A first touch (which is awareness)
That then leads to engagement (initial remarketing)
Then to conversion (cross-channel remarketing from search, email, and social back into Facebook conversion ads).
We'll work our way up from the bottom to the top of this funnel.
If you haven't run Facebook ads before, or if you've not had success, start by boosting posts exactly in the way we'll describe later in this post.
Conversion Remarketing Budget
Facebook is a remarketing engine.
Yes, like those product ads that follow you around, but smarter if you do it right.
You see, Facebook is an amplifier of what's already working for your business.
That means if you're already driving conversions via SEO, AdWords, email, or other digital channels, Facebook will increase your efficiency.
Whatever is already working, you'll get more – more visibility, leads, phone calls, and sales.
Most people fail at Facebook ads because they started with an arbitrary monthly budget and just started boosting or running conversion ads to cold audiences.
That either gets you a bunch of useless likes (doesn't translate to sales) or yields no conversions. The users you targeted never got a chance to learn about you, therefore are less likely to buy from you on the first impression.
You need to match your offer to where your audience is in their buyer's journey and relationship with your business.
Your baseline for Facebook budgeting should be how big your remarketing audiences are;
meaning, for every 100 people that have come to your website you will retarget them on Facebook.
You do this by setting up custom audiences, a javascript pixel you place on your site or a one-click integration with your email provider.
So if you have 5,000 clicks on your emails each month and 7,000 website visits, that's 12,000 sessions.
And at $1 per 100 visitors, you'd start your budget at $120 per month for conversion remarketing.
Of course, if you sell many products to many segments in a more complex funnel, then you could adjust this up or down, largely by whether you have content for each of these audiences.
If you find that this initial budget is profitable for you, then you'd want to keep adding money until your marginal revenue equals your marginal cost.
Expect that in a healthy Facebook account, one-third of your budget should be conversion remarketing.
RECOMMENDED POSTS
Create a custom audience of your biggest spenders by uploading a list of their emails to Facebook and then target ads to them. You can also use dynamic retargeting to drive sales of products that people visited in your online store, or added to their shopping cart, to drive additional sales.
Engagement Budget.
You'll also want to have an engagement budget.
This is part of the consideration phase, as Facebook defines it, where your goal is to increase your audience reach and educate these audiences on who you are.
Your engagement budget should be triple your remarketing budget to start because you'll be focusing on three key touch points.
The 3 Ways to Target Your Audiencens
Lookalike Audiences: people who look like your current customers.
Interest Targeting: people whose interest relate to your product.
Behavioral Targeting: people whose behaviors relate to your product.
Lookalike Audiences.
One-third of your engagement budget should be for lookalike audiences.
Provided you have conversion tracking in place and have more than 30 conversions a month, Facebook will find people who look just like people who have bought from you before.
Even though these lookalikes are way bigger than your conversion sets, don't fall into the trap of setting giant budgets here.
Increase your budgets only if the custom audiences you yield are profitable or if the lookalike audiences buy your product.
We don't recommend running lookalikes in a conversion campaign at first until you've exhausted your remarketing audiences and made sure they're profitable.
Interest and Behavioral Targeting.
One-third of your engagement budget should be for interest/behavioral targets.
This means you're segmenting your audiences by other products they like, life stage events, competitors' page they like, and other targeting criteria.
Your ad copy should reflect should reflect the audience's interest and/or behavior you are targeting to make this method effective.
For example, if you are an active wear brand targeting women with an interest in Game of Thrones, then your ad could use fire and dragon imagery and copy that reads:
"Ignite Your Workouts While Staying Cool with Our Dri Fit Fitness Leggings."
Remarketing for Further Engagement
Finally, the last one-third of your engagement budget should be remarketing to further engagement.
Earlier, we said to spend a dollar per 100 visitors to drive conversions via remarketing.
Here we're saying that you spend a dollar per hundred visitors to further educate them, not to sell them.
Share customer stories, educate users on issues they care about, show how active you are in the community, and so forth.
In our example, we're spending $120/month on conversion remarketing and $360/month on engagement. For a total budget of $480/month.
Remember, this is a starting point. You'd adjust budget up or down based on what's profitable, your Relevance Scores, and whether you have content.
RECOMMENDED POSTS
Put up an ad that generates a lot of comments or questions. We've noticed this to increase our "Ad Relevance" score, which in turn makes the ads display a higher number of impressions for a longer time period.
Want more insights like this?
We're on a mission to provide businesses like yours marketing and sales tips, tricks and industry leading knowledge to build the next house-hold name brand. Don't miss a post. Sign up for our weekly newsletter.SUBSCRIBE
Boosted Posts Budget
The last phase of the funnel, as we work our way up from the bottom is audience. Some people call it "awareness."
The goal here is to literally make people aware that you exist.
We'd expect your boosted posts budget to be the final third of your total budget.
However, 80%of your effort will be focused here because there is a lot more maintenance and testing done in this phase than the others.
RECOMMENDED POSTS
Change your copy and images frequently to avoid banner blindness as well as avoid making your ad look like a traditional ad. Most people aren't on Facebook to shop, so to get them and get them to discover and engage with your brand, you must do more than just interrupt their news feed with a product placement.
You might start out by boosting five to six posts and finding that perhaps one of them is doing well, based on cost-per-engagement or even cost-per-lead (if you are boosting a post with a call-to-action button).
We typically find one in five boosts tend to have decent performance, but if your content is lousy, maybe you're one in 20.
Over time, you might boost dozens of posts, but keep boosting only a handful.
This handful of posts continues to spend a dollar a day (or more, if the audience is big enough), so your total spend on boosting could be $10, $50, or even $200 per day.
If you've set up your funnel properly, then you have set engagement remarketing audiences to pick up from there, which then go to your conversion campaigns.
Thus, you can link all stages of your campaign to assess profitability and adjust budgets accordingly.
The amount you spend on boosting is based on how many posts you have to boost, how well those posts perform, and how long you've been boosting (to create more and more stacked layers of boosted posts that are running concurrently).
26 FACEBOOK ADVERTISING EXAMPLES
Facebook stalking your competition to preview their ad examples is time consuming. That's why we did it for you. In this guide, you'll get access to 26 different ecommerce Facebook Advertising examples across verticals.
We've also included:
Facebook Advertising type
Why the ad works
How to set up your own
How much does it cost to advertise on Facebook?
Expert answer: Manage against Revenue and ROAS counterbalanced metrics.
That means you are calculating marginal profitability for every conversion ad.
We know that cost-per-click (CPC) divided by conversion rate equals cost-per-acquisition (CPA).
So sorting each ad by these two primary factors will quickly tell us which ads to cut, which ads to tune, and which ads to add more money.
These two factors can each be broken down into a further set of diagnostic metrics such as:
Relevance Score (almost identical to Google's Quality Score, based on click-thru rate [CTR] and negative feedback)
Frequency (over three per week in the newsfeed will typically lead to burnout)
CTR: We know that a higher CTR usually means a lower CPC, but factors such as placement, audience size, and Relevance Score come into play
Troubleshoot knowing that all campaigns are limited by either audience or budget.
If you've gotten this far, congratulations! That means you already know that what matters is not budget, but profits.
Thus, we do lots of optimizations at each of the three stages in the funnel, like we discussed above.
And the sum of these changes happens to be your budget.
When your goal is to spend a certain budget, then profit becomes a random output.
But if your goal is maximizing profit, then you'll spend whatever budget happens to maximize that business outcome.
If You're Still Not Satisfied
Some people just don't accept "it depends" type of answers to their questions.
So we've also compiled some basic Facebook benchmarks based off the trillions of impressions and billions of ad spend we've managed over the past 10 years.
Facebook Advertising Basic Costs*
Cost of Impressions: $8.00-10.00 CPM
Cost per Video View: $0.03-0.05 CPV
Cost of Driving Traffic: $0.75 CPC
Cost per Lead: $5.00 CPL
*These numbers vary by vertical.
So, ready to get this "pay-to-play" game started?