Vacuum Container
---
Buy Now and Get 5% OFF
Best Prices
Trending up
Purchase protection
Free Shipping on all Orders Today
---
---
---
---
---
Share
Secure Purchase
Payment methods
Your payment information is processed securely. We do not store credit card details nor have access to your credit card information.
Security
FREE SHIPPING & RETURN
Delivery 14 Days or Less on all orders! Fees applies for Express Shipping.
SHOP WITH CONFIDENCE
Safe Payments Options. Full refund for damaged or lost package.
PRIVACY & SUPPORT
We Protect your privacy! If something goes wrong, we got your back. 24/7 chat available.
6 liters
Suitable for home
About 3 steaks at a time
Features:
✓ Ultra-Strong : Made of premium, clear polycarbonate, one of the strongest plastics on the market. It's a material that is easy to clean and super strong while providing crystal-clear visibility.
✓ Effective Lid Cover : Prevent water from evaporating and allows you to cook delicious sous vide dishes with less electricity and less time. Really easy to add, remove, and re-organize food bags.
✓ Heating Efficiency : Unlike metal pots, this container has lower thermal conductivity to retain the heat. This allows you to heat the water faster with less energy required in the process.
✓ Fits Sous Vide Cookers : The universal container fits most types of sous vide cookers with a 65mm x 90mm opening. 
✓ Cook Large Meals:   With a generous 11L capacity, this container easily fits whole chickens or roast cuts. Prep gourmet meals for the whole family in one go.
Container size: 325*175*200mm
Temperature Range Allowed: -40℃ to 100℃
What is Sous Vide Cooking?

Imagine you're cooking a steak. You probably know exactly the color and texture you'd like, right? With sous vide, you simply set a pot of water to the corresponding time and temperature, and you can get that perfect doneness you desire, every time. Sous vide has been gaining popularity recently with home cooks, but professional chefs and restaurants have been relying upon it for decades. It's a relatively simple method that can easily be used at home to improve your favorite meals, remove unnecessary stress from cooking, or free you from focusing on one aspect of your meal—like getting your steak to the doneness you desire without overcooking it—so you can focus on a creative side dish, sauce, or dessert.

Sous vide, which means "under vacuum" in French, refers to the process of vacuum-sealing food in a bag, then cooking it to a very precise temperature in a water bath. This technique produces results that are impossible to achieve through any other cooking method.

Sous vide cooking is much easier than you might think, and usually involved three simple steps:
1. Attach your precision cooker to a pot of water and set the time and temperature according to your desired level of doneness.
2. Put your food in a sealable bag and clip it to the side of the pot.
3. Finish by searing, grilling, or broiling the food to add a crispy, golden exterior layer.
Why should I try Sous Vide Cooking?
Sous vide cooking utilizes precise temperature control with circulation to produce results that you can't achieve through any other cooking technique. The reason is because when using traditional methods of cooking, you don't have control over heat and temperature. Consequently, it's very difficult and time consuming to consistently cook great food. Food ends up overcooked on the outside, with only a small portion in the center that is cooked to the temperature you want. Food loses flavor, overcooks easily, and ends up with a dry, chewy texture.
With precise temperature control in the kitchen, sous vide provides the following benefits:
Consistency.  Because you cook your food to a precise temperature for a precise amount of time, you can expect very consistent results.
Taste.  Food cooks in its juices. This ensures that the food is moist, juicy and tender.
Volume .  Traditionally prepared food lose their volume due to evaporation. Meats cooked via precision cooking, loses none of its volume.
Flexibility.  Traditional cooking requires your constant attention. Precision cooking brings food to a pre-set temperature and holds it. There is no worry about overcooking.
Traditional Cooking vs Sous Vide
With traditional techniques, there's a narrow window of time in which your food is prepared just the way you like it—get distracted for a few minutes, and you've missed your opportunity to enjoy a perfectly prepared steak or pork chop.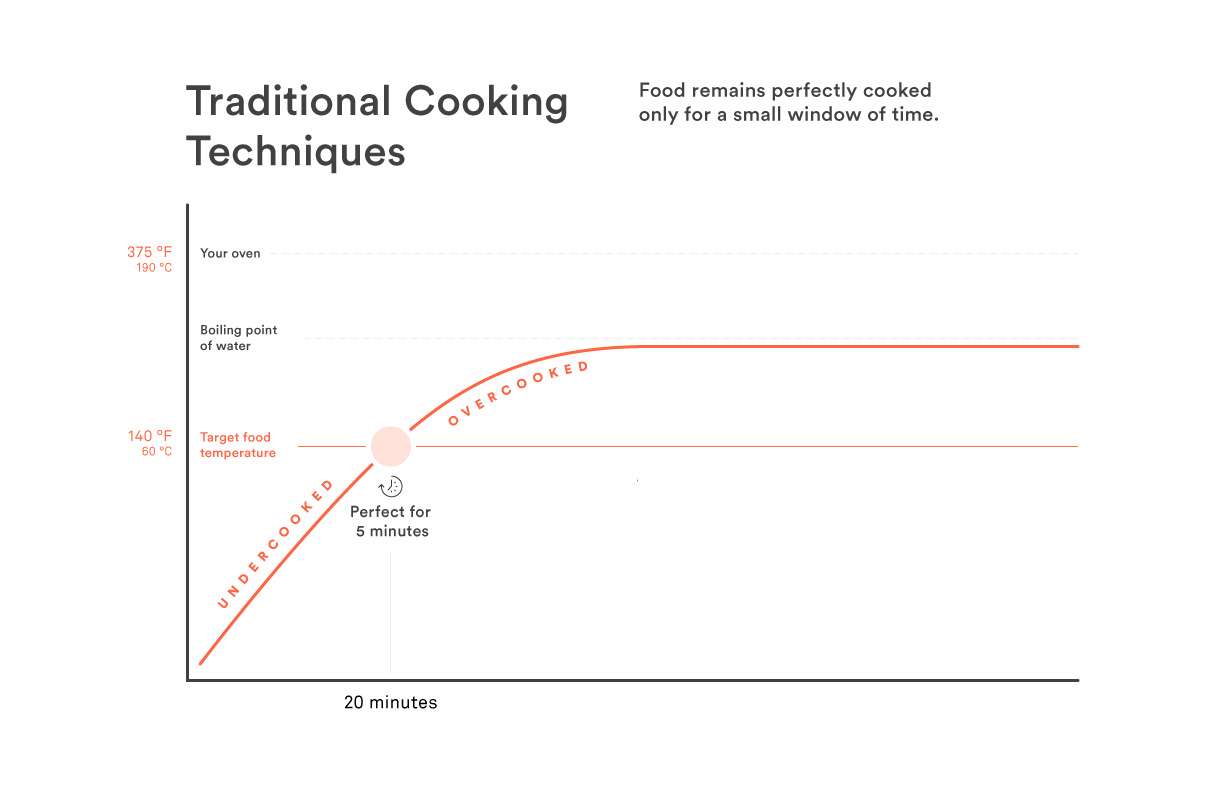 Now check out this sous-vide graph. As you can see, your food can remain in a precisely heated pot of water for more than an hour, and still emerge perfectly cooked. Guests call up to tell you they're stuck in traffic? Worry not, good sir or madam, your dinner party will still go off without a hitch. Got your chops ready to go but find that salad recipe took longer than you expect? Don't you fret, little buddy, you can just let that chicken be. All set to eat some salmon but then find out—you know what? You probably get the picture. Sous vide food is ready when you are, and when you  are  ready, you're going to find you've got some seriously tasty food on the table.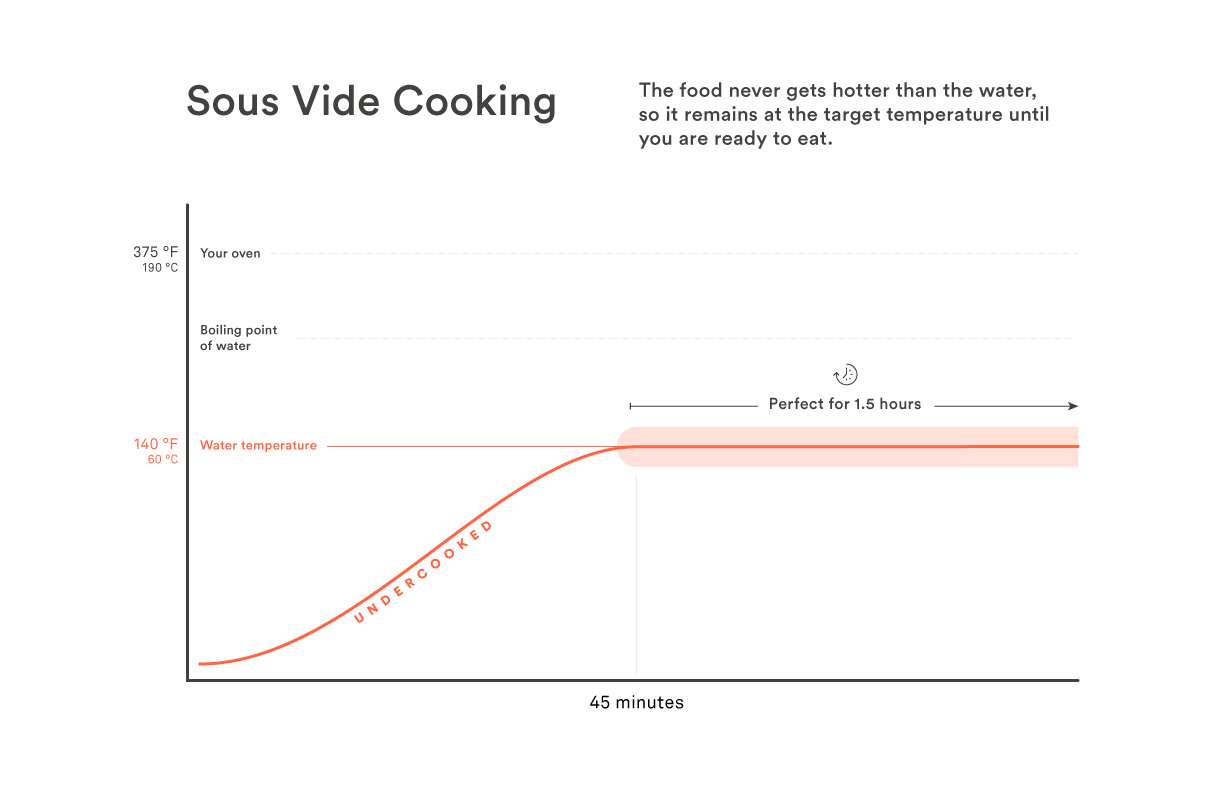 How are Sous Vide results better?
Sous vide provides down-to-the-degree control in the kitchen to deliver the most tender, flavorful food you've ever had. With your own Sous Vide Cooker, it's super simple to get restaurant-quality results from edge to edge.
Sous Vide Steak vs. Traditionally Cooked Steak
The steak on the left was cooked sous vide at 129ºF, while the steak on the right was pan-cooked. As illustrated in the comparison above between cooking sous vide steak and pan-cooking steak, there are important advantages to cooking sous vide over traditional methods.
The salmon cooked sous vide (left) remains a translucent pink, with a delicate, flaky texture. The pan-cooked salmon (right) has overcooked edges because the surface temperature of the pan is higher than the target cooking temperature. As it dries out, it begins to expel the white albumin.
Sous Vide Eggs vs. Traditionally Cooked Eggs
Whether you're a poached egg perfectionist or a fan of soft-boiled, sous vide makes your ideal egg achievable every time. The egg on the left is cooked consistently to the desired texture. On the right, a guessing game resulted in raw and runny yolks with over-thickened whites.
What equipment do I need to cook Sous Vide?
It's actually very affordable and easy to get started with sous vide cooking thanks to the recent availability of sous vide devices built for the home cook. You'll need a few things:
A sous vide precision cooking device
Packaging for your food, like resealable bags or canning jars
A container to hold the water
Sous Vide Container (optional)
Sous Vide Vacuum Sealer (optional)
Sous Vide Packaging
Sealing foods prevents evaporation and allows for the most efficient transfer energy from the water to the food. To do so, simply place your seasoned food in a plastic bag and remove the air using the water immersion technique, a straw, or a vacuum sealer.
You don't need a vacuum sealer to cook sous vide. There are lots of options, here are a few of the best types of sous vide packaging:
Resealable Bags or Jars
Resealable bags are very versatile, and can be used with the water immersion method to remove air from the bag. We recommend heavy-duty, BPA-free bags, like Ziplock's freezer bags.
Vacuum Sealing Bags
You don't need to purchase a vacuum sealer and vacuum seal bags, but they work well for batch cooking.
Canning Jars
Several different types of foods can also be cooked in glass canning jars. Beans and grains both work well in jars, as do desserts such as cakes and custards.
How do I prepare for a Sous-Vide cooking session?
Getting set up with your first sous vide cook is easy with Anova:
1. Simply clip the Sous Vide Home Cooker to a pot or container and fill with water.
2. Season your food and place it in the bag. Drop the bag in the water bath and clip it to the side of the pot.

3. Retrieve your food after a pre-determined period of time and grill, broil or sear it to finish off the preparation.